Home Page
Trugrip Staffords since 1969
Showing, Breeding and Having fun since 1969 with the Staffordshire Bull Terrier.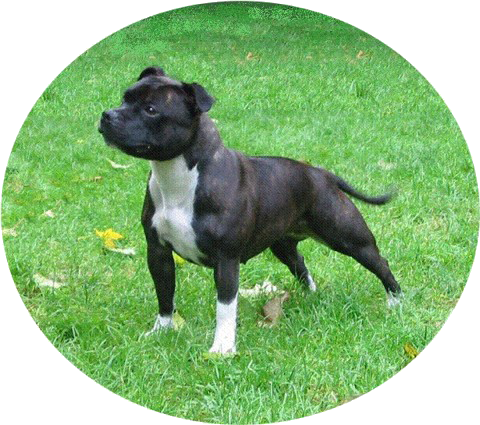 Ch. Trugrip BC Flashy Astra
Dana and her sister, Jenny Merritt, as Trugrip Staffords, were one of the pioneers for the breed in America and owned their first Staffordshire Bull Terrier (Stafford) in 1969, before the breed was recognized by the American Kennel Club (AKC). Even though the Stafford is one of the most popular breeds in England, (mostly because of its reliability and affinity with people, especially children), it did not receive recognition by the AKC until 1974.
Trugrip Staffords have put together one of the most successful breeding programs in the United States, with, to date, 142 AKC champions (see Trugrip Championship List). They have also received numerous awards and certificates for Top Dog, Top Bitch, Top Stud Dog and Top Brood Bitch, and are proud of Ch. Trugrip Knight Sky for his AKC Best in Show, only the fourth given since recognition.  His son Ch. Trugrip St. Rogue Red by Roxee CGC has 3 Best in Shows (2 Canadian-CKC and 1 AKC) and accomplished Stafford history by being the only Stafford to have an all breed Best in Show in two countries in North America.  Rogue was the first SBTCA Top 20 (2005) winner and his daugther, MBISS GCh. Trugrip One Singular Sensation CGC, the number one winning bitch Stafford in the USA and #1 in Canada the same year (2010).  She went on to help Trugrip do a Top 20 repeat, by winning that honor in 2011.   Other recent top winning Trugrip Staffords include BISS GCh. Trugrip Good Boy Dex CGC, Ch. Trugrip BC Da One and Only RA CGC,  GCh. Trugrip Summer Dayz (top bitch 2013) owned by Toni Pawson.
Although Trugrip Staffords is very successful in the show ring, Dana and Jenny never lose sight that all Staffords are companions first and carefully place their pups in responsible and loving homes. It is also the reason that there are no kennel runs to house multiple dogs, just a few house staffords, currently Bessie, Party. Ginger and Duke.
Both Dana and Jenny are very active in the Stafford world, always participating as Club members, and from time to time holding office positions.
Currently, Jenny is the Secretary  for the ATCWW (All Terrier Club of Western Washington), and President of the SBTCPS  (Staffordshire Bull Terrier Club of Puget Sound). Dana was the Chairperson of The SBTCA Judges Education Committee, helping in the writing and production of the Judges Breed Seminar, also member of the committee for the production of the SBTCA Illustrated Standard .  She also has illustrated a book by Lucille Perry "My Dog Can Talk", does photography and art (see Pied Productions) and is the Editor, and sets up marketing ads for Staff Status.  Dana is also the President of the ATCWW and the Director of SBTCPS.
Jenny and Dana are members of ATCWW, SBTCPS and the SBTCA (Staffordshire Bull Terrier Club of America)